BIOGRAPHY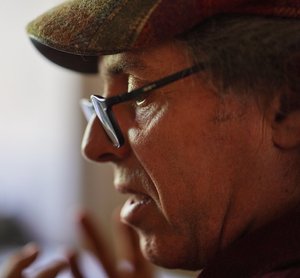 Meet Gilles
Gilles Planchon was born in Pézenas (Hérault, France) in 1967. Trained in aquaculture and in the field of laboratory analysis for agriculture, Gilles first encountered microalgae during an internship at the Centre de Recherche du Lagunage de Mèze in 1987. This is where he met Ripley Fox, a pioneer in the cultivation of spirulina for developmental aid. This meeting was formative of the rest of his life, which he devoted to research and experimentation on the cultivation of spirulina in order to make it more natural and more accessible to all.
Travel
In order to promote the most ecological practices possible, Gilles has traveled the world to study spirulina lakes seeking to understand the real needs of spirulina in its natural environment. During his research, he discovered several lakes: Paracas in Peru in 1993 (from which he extracted a strain of spirulina among the most cultivated today in France), Camargue in 1996, and Laayoune in Western Sahara in 2010.
For 35 years, Gilles has participated in the development of artisanal and homestead spirulina cultures in 16 countries on 4 continents, accumulating and sharing his expertise. This led him to co-write a growing manual in 2003: " La spiruline pour tous, culture familiale " (in French), a reference manual that is now in its ninth edition.
He participated in multiple humanitarian projects through the association "Les idées bleues" and the association "Univers la vie" that he co-created.
Gilles initiated and co-organized the first pan-African meeting of spirulina producers in Niger in 2006. He has given numerous courses in universities in South America, and today he continues to teach by training individuals and professionals in the techniques of ecological cultivation that he has experimented with and perfected.
Experimentation and sharing
Using his experiences with Ripley Fox on methanizer effluents and his studies of natural lakes; between 2010 and 2014, he developped the first culture of spirulina to be certified "Ecocert" in Europe, for the consulting firm Hyes.
Thanks to his training and experience in sustainable spirulina cultivation, he has become the first teacher of spirulina professionals in France. He participated, in collaboration with the Fédération des Spiruliniers de France (FSF),  in creating the specifications for the organic cultivation of spirulina (AB), and with the association Spiruline & Progrès in the development of the requirements spirulina for the Nature & Progrès label.
Today, he offers his knowlege, the result of 35 years of experience, to the community through courses and consulting, internationaly.
He regularly organizes courses in family spirulina cultivation, of which he is a specialist, and gives expert advice to spirulina professionals.
Installation
In 2016, Gilles settled on the land of his ancestors in Tourbes. With the support of a crowdfunding campaign he developed a method of cultivating spirulina using the principles of permaculture. Since 2017, he sells the ecological spirulina he produces. His affinity for raw food motivated him to quickly start selling the entirety of his production in the form of fresh spirulina.
He is now pursuing his research into new ecological and resilient modes of cultivation that increasingly take into account energetic and vibratory aspects. Through the association "L'oasis de la roquette" he also works locally for biodiversity, creating ponds and planting many trees. Considering himself today as a guardian of the living, he is gradually turning his place into a real sanctuary dedicated to spirulina and to nature in general. a video here (in French)
Research and publications
With the support of HYES and the FSF, Gilles has undertaken numerous studies and published reports related to the ecological cultivation of spirulina:
Amendments authorized in organic agriculture and usable for organic spirulina aquaculture (with Adrien Galaret). December 2013
Comparative study of a crop without synthetic fertilizer with a conventional crop. February 2014
Experimental cultivation of spirulina at laboratory scale using feather amino acids. December 2014
Comparative study of a spirulina culture using ammonium sulfate. February 2016
Study on the influence of excessive sulfur concentrations in spirulina cultivation (with Paula Rodriguez). December 2017
Purification of spirulina cultures. December 2018
Purification and recycling of spirulina culture medium. July 2020
Protocol for the production of fresh spirulina. 2021
Spirulina cultivation with the help of brewer's grains. 2022 2023